Did you receive any unsolicited phone call from an unknown person, local or foreign government officers asking you to open a bank account or transfer money into an unknown account? If yes, it could be a SCAM.
Be cautious, especially when someone persistently pressure you to act urgently or instil fear in you with unverified information. The best defence to safeguard ourselves is to know how to identify scams, stay informed and be vigilant.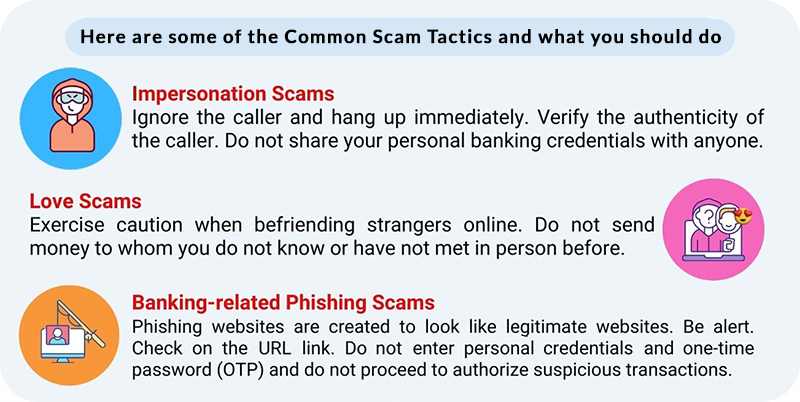 6S To Prevent Scams
S

pot the signs: Recognise the tactics that scammers use.

S

top and think: Ask yourself or others if a statement, message or job offer could be true.

S

low down, don't rush: Do not rush into providing your personal or banking details.

S

peak to others: Check with others to verify the authenticity of a claim before doing anything.

S

afeguard personal details and passwords: Never disclose personal information, even if the request appears to be legitimate.

S

eek help: Talk to friends or family members for advice or support if you have been impacted by a scam.
HONG LEONG FINANCE ANTI-SCAM INITIATIVES
We are committed to keep you and your loved ones safe. We have collaborated with Anti-Scam Centre and are actively involved with anti-scam initiatives and training to raise the awareness of scams with our staff and customers.
Remember, a little goes a long way. It pays to be alert,
spot the early signs, verify and talk to someone you trust.
PAUSE . THINK . VERIFY . STOP

您是否接到过陌生人、当地或外国政府人员主动打来的电话,要求您开设银行户口或将资金转入未知户口?如果是的话,这可能是一个骗局。
请提高警惕,特别是当有人不断向您施压,要求您立即执行对方指令,或使用未经核实的信息让您产生恐慌情绪。保护自己的最好方法是知道如何识别骗局,了解相关信息,提高防范意识。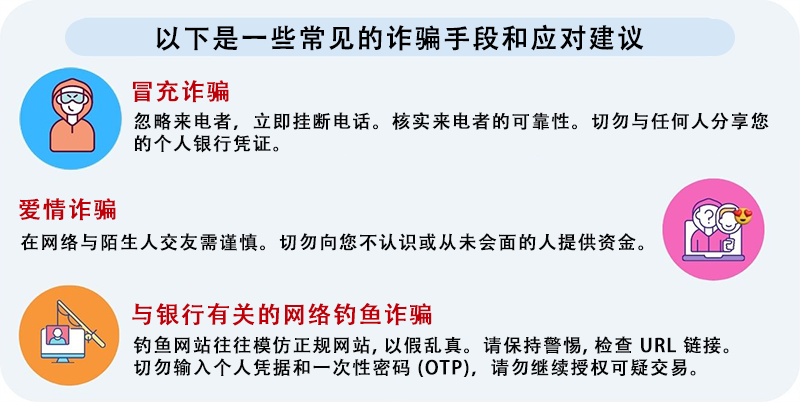 六大法则防止诈骗
察觉迹象: 识别诈骗犯使用的策略。
停下来思考: 问问自己或他人,某项陈述、信息或工作机会是否属实。
放慢速度,不要着急: 切勿急于提供您的个人或银行信息。
与他人交谈: 在做任何事情之前,请与他人核实声明的真实性。
保护个人信息和密码: 即使请求似乎是合法的,也不要透露个人信息。
寻求帮助: 如果您受到诈骗的影响,请向朋友或家人寻求建议或支持。
丰隆金融反诈骗措施
我们致力于保护你和至亲的安全。我们与反诈骗中心合作,并积极参与反诈骗活动和培训,以提高员工和客户对诈骗的认识。
请记住,细微防范作用大。提高警惕,发现早期迹象,
核实并与您信任的人交谈, 均有助于防范诈骗。
暂停 . 思考 . 验证 . 停止