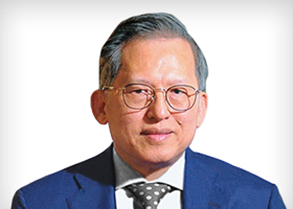 Kwek Leng Beng
Executive Director
A Managing Director of Hong Leong Finance Limited ("HLF" or the "Company") since 1 March 1979, Mr Kwek was appointed the Chairman of the Company since 28 November 1984 and was last re-appointed as a Director on 21 April 2016.
Mr Kwek is also the chairman of the Executive Committee and sits on the Board Risk Committee and Nominating Committee. He will be seeking re-election as a Director at the 2018 Annual General Meeting of the Company.
He is the Executive Chairman of Hong Leong Investment Holdings Pte. Ltd. ("HLIH"), the immediate and ultimate holding company of HLF, and City Developments Limited ("CDL"), and non-executive Chairman of Millennium & Copthorne Hotels plc ("M&C"). CDL and M&C are subsidiaries of HLIH and thus, related companies under the Hong Leong Group of companies.
In the preceding 3-year period, Mr Kwek was the Chairman and Managing Director of City e-Solutions Limited ("CES") until he stepped down in September 2016 after CES ceased to be a subsidiary of CDL. He was also non-executive Chairman and Director of Hong Leong Asia Ltd. ("HLA") until his retirement from the board in April 2017.
Mr Kwek holds a law degree, LL.B. (London) and is also a fellow of The Institute of Chartered Secretaries and Administrators. He has extensive experience in the finance business, having grown from day one with the original Hong Leong Finance Limited which has since merged its finance business with Singapore Finance Limited (now known as HLF). He also has vast experience in the real estate business, the hotel industry as well as the trading and manufacturing business.
Mr Kwek's other appointments include being a member of the East Asia Council of INSEAD since its inception in 2003, a board member of the Singapore Hotel Association and a Fellow of the Singapore Institute of Directors ("SID"). He was also conferred an Honorary Doctorate of Business Administration in Hospitality from Johnson & Wales University (Rhode Island, US) and an Honorary Doctorate from Oxford Brookes University (UK).
Mr Kwek was presented the inaugural Global Blue Ocean Shift Award at the Global Entrepreneurship Community Summit held in Kuala Lumpur in December 2017. The award was presented to Mr Kwek in recognition of his efforts in opening up new frontiers of opportunity and growth and creating a new pipeline for economic expansion. He was also presented the Lifetime Achievement Award at the Asia Pacific Entrepreneurship Awards 2017 organised by Enterprise Asia, a regional non-governmental organization for entrepreneurship. The accolade was in recognition of his outstanding achievements, visionary leadership and steadfast dedication that has led to the successful growth of Hong Leong Group Singapore for over five decades.
He also received several awards in 2015, namely the Singapore Chinese Chamber of Commerce and Industry ("SCCCI") SG50 Outstanding Chinese Business Pioneers Award, which honours the Republic's outstanding Chinese business pioneers and their exemplary contributions to nation-building; the "Best Singaporean Investor to Italy" Award which was presented by the Italian Chamber of Commerce in Singapore to business people who have made impactful investments in Italy and helped to boost bilateral ties between Italy and Singapore; and the Lifetime Achievement Award from Hotel Investment Conference Asia Pacific ("HICAP") which honours exceptional individuals who have distinguished themselves through their accomplishments and contributions to expanding, enhancing and advancing the hotel industry in the Asia Pacific region and the world.
Other prestigious awards received in the past include the inaugural Real Estate Developers' Association of Singapore ("REDAS") Lifetime Achievement Award in 2014 which was introduced to honour a pioneering group of real estate industry leaders in Singapore, and the "Partners in the Office of the CEO" award in the Brendan Wood International - Securities Investors Association Singapore ("SIAS") TopGun CEO Designation Award in 2012 which was jointly accorded to the late Mr Kwek Leng Joo (former Deputy Chairman of CDL). The latter award was accorded to CEOs who are best in class rated by shareholders.