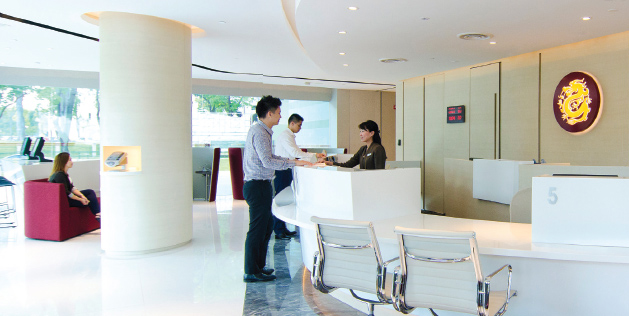 YOUR AWARD-WINNING FINANCIAL PARTNER
Hong Leong Finance ("HLF" or the "Company") has evolved from a Small & Medium Enterprise ("SME") in 1961 to become Singapore's largest finance company with a distribution network of 28 branches.
The Company is ranked the "Best Performing Bank in Singapore", among the 'Top 100 ASEAN Banks' and 'Top 1000 World Banks' for 2021 by The Banker, an international publication owned by The Financial Times Ltd. Listed on the Singapore Stock Exchange in 1974 as the then Singapore Finance Ltd, HLF is the financial services arm of the Hong Leong Group Singapore.
HLF's core business involves taking deposits and savings from the public and providing financing solutions and services that include corporate and consumer loans, government assistance for SMEs, corporate finance and advisory services.
As an SME Specialist with six decades of experience in serving the SME community, HLF has supported many local business enterprises with customised financial solutions that enabled them to operate successfully and expand swiftly.
To help them achieve greater efficiency and scale greater heights, the Company was the first to launch a Business Current Account in 2007 and is the only one among the finance companies with full sponsorship status for the SGX Catalist Board. We provide financial advisory and fundraising services to SMEs aiming to list on Catalist, support companies in their mergers and acquisitions and underwrite the sale of shares by listed companies.
In our quest to maintain market leadership and deliver services effectively to our SME customers, HLF maintains a strong network of 12 SME Centres within our branch network to stay close to the business community. For our strong commitments towards SMEs, HLF was twice conferred the 'Friends of Enterprise' award by the Spirit of Enterprise.
Our 28 branches are strategically situated in Singapore and 27 of them are located in residential estates where our customers live and play. Over the years, we have earned their trust and pride ourselves in offering personalised services to them and meeting their daily needs. The HLF brand has become a household name and is recognised among the 'Top 100 Singaporean Brands 2021' by Brand Finance.
We are a customer-centric organisation, committed to delivering purposeful value propositions and innovative financial solutions to stay relevant. We embrace a high service culture by regularly upskilling our staff, proactively digitalising our processes and constantly upgrading our systems to create the best customer experience.
We believe in conducting our business profitably, responsibly and sustainably by considering the environment, social and governance factors as we actively seek growth opportunities and robustly identify risks.
Participated in the Corporate Governance Pledge